WINE 101 SEMINAR AT 13 CELSIUS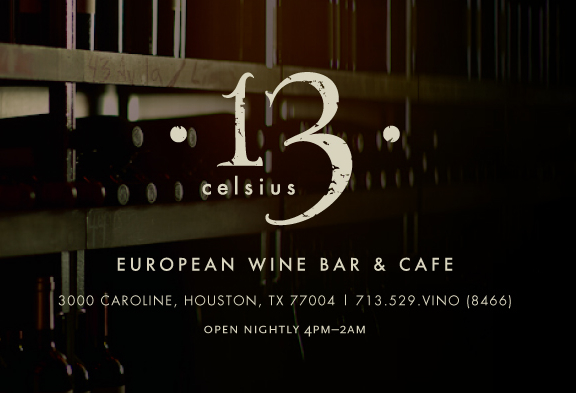 Want to learn more about wine in one of Houston's Best Bars? You won't want to miss Mike Sammons' Wine 101 Class at 13 Degrees Celsius on Monday, June 27 from 3:00-5:00. As many of you know, 13 is my favorite bar in Houston, and Mike is a real treasure to the city. For those of you confident in your wine knowledge, come along to taste great wines and interact with others. For those who could use some refreshing or have no knowledge at all – this is the class for you. That's why I'm going! I drink a lot of wine (especially at 13), but I've always been so obsessed with spirits and cocktails that I've never taken the time to learn more. I can't think of a better instructor than Mike.
Mike's class is only $40 for the general public, which is still a steal! BUT, if you're working bartender registered with the United States Bartenders Guild, then your class is free!
This is going to be a lot of fun, and I hope to see as many of you there as possible. If you're interested in attending, send an e-mail to book your seat now to Mike at mike@houstonusbg.org as soon as possible. To become a registered member of the Houston USBG, please send an e-mail to Claire Sprouse at claire@houstonusbg.org .