AIR INFUSIONS: SMOKED RYE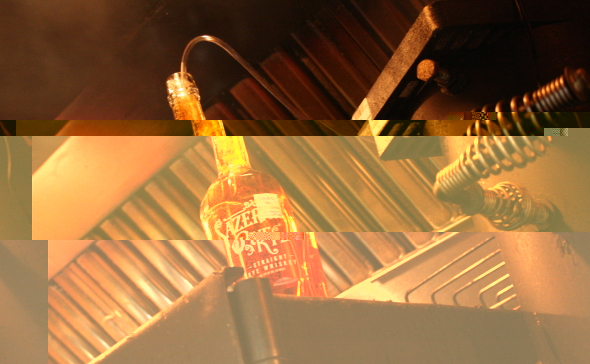 I've got two obsessive hobbies: cocktails and large South American tropical fish. The .0005% of the world's people who appreciate the cocktails don't understand the fish, and the .0005% of the world's people who appreciate the fish don't understand the cocktails. I might be the only link between these two strange groups of hobbyists. Generally, my two hobbies have nothing to do with one another – the fish don't like to drink I guess – but, I finally found a way to use my fish and cocktail knowledge together. The result was a delicious bottle of house-smoked Sazerac rye whisky.
This idea was hatched a few months ago when I was exploring the concept of smoked cocktails. While I have refined the idea of incorporating smoke into cocktails quite well since those writings, I still wanted to try my original idea of smoking a bottle of liquor itself. The problem with most other methods for incorporating smoke into a cocktail is that the smoke must piggy-back on some other medium, like a syrup, fruit, herb, etc. This introduces an additional flavor to a drink, that while tasty at times, limits the element of smoke to cocktails that use these types of ingredients. Unleashing the full potential of smoke in cocktails requires the introduction of smoke into a spirit without altering the spirit in any other way.
Enter the fish tank aerator. This device is usually used to force air into a fish tank in order to provide fish with air. The aerator simply collects the surrounding air and forces it into an airline which is connected to an airstone or airbar placed inside of a fish tank. This aerator is generally surrounded by clean, oxygen friendly air, which makes happy, healthy fish. A deadly error made by fish keepers, however, is spraying Lysol or other aerosols around fish tanks or aerators. The Lysol is taken in by the aerator forced into the tank, and the owner's precious fish die, because Lysol kills germs…and fish. They should put this whole sequence on a commercial and point out that if the fish don't have a chance, neither do the germs.
Now take these same principles and place that aerator on a smoke stack. And, instead of running the airline into a fish tank, place the end of the line in a bottle of Sazerac rye. The aerator takes in the smoke and forces it into the rye. The smoke, which is alcohol and water soluble, takes hold of the spirit and slowly changes it over time into a tasty beverage even Samuel L. Jackson would be proud of. The only thing to watch for here is the potential for the aerator to overheat. Make sure that your stack is not too hot and use a smoker that has a large distance between the fire and chimney opening. Taste your rye or whatever you desire every 30 minutes or so and pull the line out when you've reached your desired smokiness.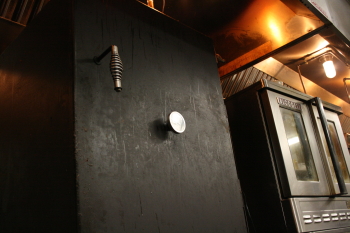 Some have suggested using housemade liquid smoke instead of smoking a spirit as a method for accomplishing the same result. However, liquid smoke is far more intense and difficult to control. Air infusing a spirit takes time and allows for one to stop the introduction of smoke at any point, creating more control over the final result, and eventual cocktails. Moreover, smoking a spirit yourself allows for you to use any type of wood to obtain a more specific smoke profile. Our rye was smoked with the smoker at the bar for example, and we used the same wood we smoke all of our meats with, maple and red oak. Any wood would work so, the potential for using all sorts of different wood, like mesquite or some other crazy foreign wood I haven't heard of, could create some extremely complex spirits with as much subtlety or boldness as one would desire.
I love smoke elements in cocktails, and I think that smoke properties are an overlooked trait in mixology. Between the air infusion presented here and my other posts on smoked cocktails, I think the methodology for adding smoke to cocktails has been presented somewhat extensively. I would love to hear what others are doing with smoke and find out if anyone has heard of any new smokey cocktails since my last posts on the subject. Also, please try this out and tell me how your air infusion works. I'm pretty sure this idea is a first, but I wouldn't be surprised if there where other fish/cocktails fans out there.