APEROL – THE VERSATILE ITALIAN APERITIF
Anvil recently hosted an Aperol showcase at the bar. I was excited about the opportunity to share Aperol with so many folks because, frankly, Aperol is one of my favorite liqueurs. I often describe Aperol to people as Campari-light, but this a flawed and discrediting description. Aperol is an amazing product that, like Campari is bitter, citrusy, and herbal, but its unique flavors seem far more blood orangey and exhibit a noticeable rhubarb presence. Fortunately, Aperol is now more available than ever throughout the US, and we've definitely got a few cocktails for you to try.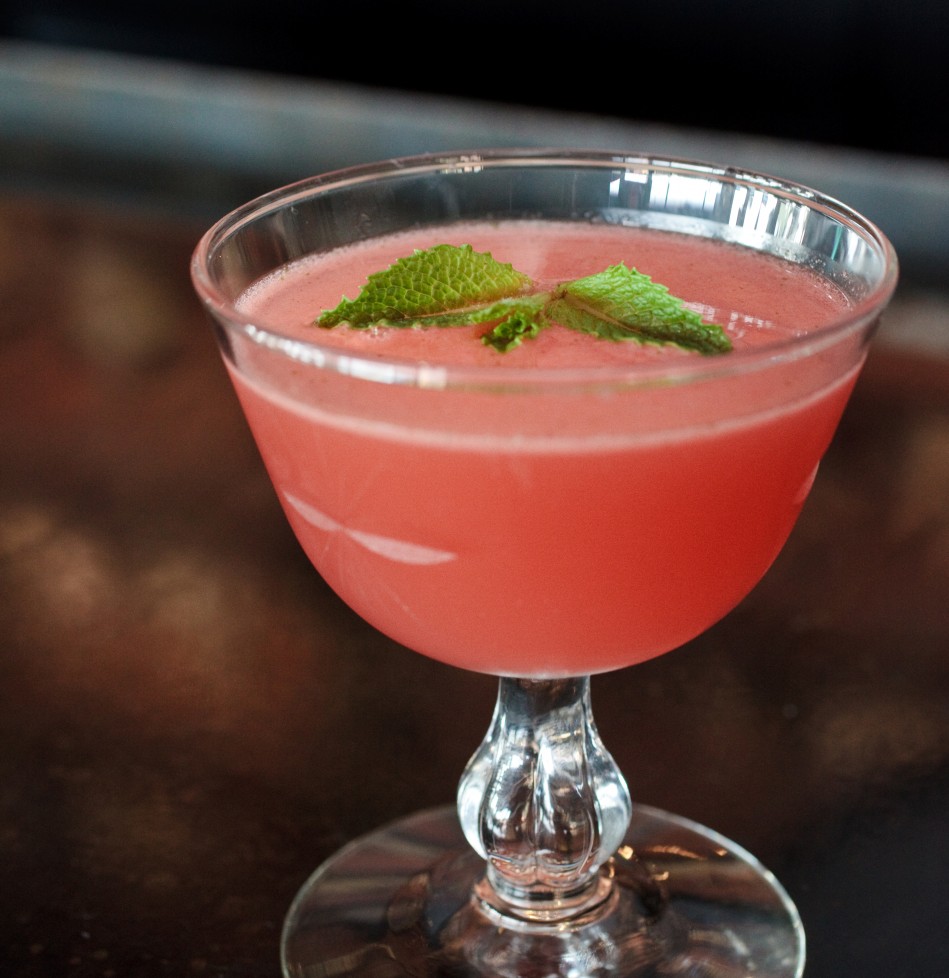 Aperol was created in 1919, when it debuted at an Italian Trade Fair. Aperol was originally a Barbero brand, but in 2003, it was bought by Grupo Campari. At 11% abv, Aperol is intended to be a flavorful aperitif as opposed to a boozy liqueur. However, despite its low alcohol content, Aperol is an extremely flavorful making it a great cocktail ingredient.
The classic Aperol cocktail is the Aperol Spritz. Simple? Yes. But, damn is this one delicious cocktail. Again, the cocktail isn't potent by any means, but sipping these on a hot summer day or in the afternoon before a meal will make anyone an Aperol enthusiast.
APEROL SPRITZ
1.5 oz Aperol
2 oz Sparkling Wine
Splash Soda
Build all ingredients with ice in a rocks glass. Garnish with an orange slice.
Here's a boozy cocktail from Anvil's current menu created by Anvil bartender, Aaron Lara. The combination of aperol, gin, and tequila is magical, and the sweetness added by the blanc vermouth perfectly balances the cocktail. I'll miss this one when it exits the menu on Monday.
THE GRINGO
1 oz Aperol
.5 oz Beefeater Gin
.5 oz Siembra Azul Blanco Tequila
.5 oz Dolin Blanc Vermouth
1 Dash Angostura Bitters
Stir all ingredients with ice and strain into a cocktail glass. Garnish with an orange twist. The brands are vital here; don't treat this as a generic gin, tequila, blanc/bianco vermouth cocktail recipe.
Aperol and St. Germain are a magical combination. To showcase this relationship, I created this simple, tasty aperitif sour that is true to the nature of aperol – light and refreshing without the boozy kick. As written, the cocktail appears sweet, but it is actually very well balanced and makes for a great starter. The pressed rosemary adds a nice aromatic quality that helps tie the cocktail together.
APPARENT SOUR
1.5 oz Aperol
.75 oz St. Germain
.75 oz Lime Juice
Shake all ingredients with ice and strain into a cocktail glass. Garnish with a pressed rosemary sprig.
Like myself, Aaron is a huge Aperol fan, and he created the next cocktail with an evangelist perspective. As opposed to the bold and boozy Gringo, Aaron's Aperol Swizzle is tangy and semi-sweet with significant depth for such a refreshing cocktail. A cocktail for everyone, and one that will definitely help build the Aperol cult. Plus, few drink genres work as well this time of year in Houston better than swizzles.
APEROL SWIZZLE
2 oz Aperol
1 oz Orange Juice
.5 oz Gin
1 Barspoon Orgeat
1 Barpsoon Averna Amaro
Build all ingredients with ice in a small collins glass and swizzle until thoroughly mixed and frost forms on outside of the glass. Garnish with a lemon wedge.
So, I know I started this post out by talking about how Aperol shouldn't be treated as the bastard child of Campari, but I couldn't help myself with this last cocktail. One of Anvil's most popular house cocktails is the Smitten, a cocktail made from gin, Campari, lemon juice, turbinado syrup, and mint. I've always enjoyed this cocktail and love that it is simple enough for anyone to make at home or another bar. Recently, not knowing who I was or my affiliation with the drink, a local bartender even offered to make me a Smitten when I was out to dinner at one of my favorite restaurants. It was such a great feeling; I told the guy I would take his recommendation and thoroughly enjoyed the perfectly crafted cocktail.
All that said, a Smitten made with Aperol instead of Campari is even better! It's so good that despite its similarity to the original Smitten, it is also going on our new menu which debuts next Monday.
TWICE SMITTEN
1 oz Gin
1 oz Aperol
1 oz Lemon Juice
.5 oz Turbinado Syrup
8-10 Mint Leaves
Combine all ingredients with ice and shake. Fine strain into a cocktail glass and garnish with a pressed mint sprig floated on top. If you don't have turbinado syrup or sugar, a basic simple syrup will suit just fine. To make the original Smitten, follow the exact recipe, but use an ounce of Campari instead of an ounce of Aperol.
Well there you have it – no more excuses for not tinkering that growing Italian import. Aperol is a wonderful aperitif that is finding itself in more cocktail-minded bars every day. God bless those crazy Italians; they sure do bitterly wonderful things!