RATTLESNAKE INFUSED VODKA…SERIOUSLY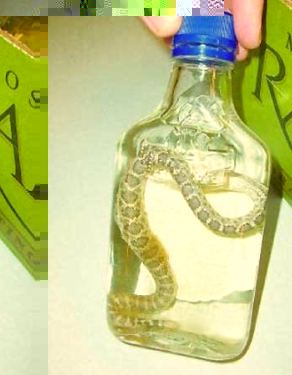 Well, it's official; the flavored vodka plague has gone as far as it can. Last Thursday, the Texas Alcholic Beverage Commission seized over 400 bottles of rattlesnake-infused vodka. Don't believe me? Just check out the story on Fox News. There are all kinds of crazy things at work here.
First of all, what is this supposed to freaking taste like? Seriously, I've heard of rattlesnake roundups (another confusing phenomenon altogether) resulting in rattlesnake steaks and other culinary delights, but what do you do with this? Are we to assume that, if popular, the rattlesnake vodka trend would inspire "rattlesnake tinis"? Man, I'd hate to see the garnish on one of the things. Then again, I know given a bottle that I'd put it to use and have to experiment with a few classic recipes. Rattlesnake negronis anyone?
Rattlesnake Negroni
1 oz Rattlesnake Infused Vodka
1 oz Campari
1 oz Martini & Rossi Sweet Vermouth
Stir and thoroughly and strain into a cocktail glass. Garnish with a severed rattle from snake.
I wonder who wins this battle – the rattlesnake or the cochineal beetles present in older bottles of Campari? Actually, I don't think the negroni twist would work as the snake infusion is actually supposed to act as an aphrodisiac. That's right, nothing like downing shots of decaying snake vodka to put that girl on the stool next to you in the mood. If this is the type of mate you're trying to attract, best of luck to you, but I might start at an underground exotic pet store, not a bar.
Infusing snake and other exotic critters, like scorpions, for romantic purposes is actually a common practice in some Asian cultures. Now, I don't want to be culturally insensitive here. I am a vigilant supporter of respecting cultures worldwide and reducing ethnocentrism, but this was South Texas. There aren't any Asians there, and if I've missed in my visits to this area of the country, they certainly aren't going to consume the 411 bottles that were seized last week by themselves.
Instead, this is just another example of that weird portion of Texas that continues to dominate the world's view of our state. For the record, we aren't all cowboys. I've never rode a horse, and I don't own a cowboy hat, boots, or an obscenely large belt buckle. The only thing that me and these rattlesnake vodka producers might have in common is our lack of understanding for the Texas Alcoholic Beverage Commission. I get the snake vodka seizure thing, but when are we going to be able to get a decent selection of liquor in this state? Surely if this is even an underground possibility, we can finally get some creme de violette down here right? I'm not holding my breath, but you can be sure I'm checking every bottle on my local liquor shelves a little more carefully nowadays.