TEXAS BARTENDERS BUFFALO TRACE SINGLE-BARREL SELECTIONS
A post from Anvil Bar & Refuge bartenders, Alex Gregg
Sometime last July, while changing a keg in Anvil's walk-in, I was presented with the chance of a lifetime by my boss and mentor, Bobby Heugel – to go to Kentucky, attend a private barrel tasting and select whiskey to bring back to the state. You may remember, about a year ago, when Bobby and Kevin selected a single barrel to be bottled and shipped to the Houston market. A few of those limited "Anvil Selection" bottles even made their way onto backbars around the city.  What I didn't realize that day in the walk in, was that this year, the scope of the project had quadrupled, and I would be visiting the historic Buffalo Trace distillery with four of Texas' leading barmen- Dallas' Michael Martensen of Cedars Social, San Antonio's Jeret Peña of Esquire Tavern, Austin's David Alan of Tipsy Texan and USBG Austin president and Bill Norris of Alamo Drafthouse and the High Ball.  Over the following weeks, details of the trip became clearer, yet I was still unprepared for the life-changing day that lay ahead.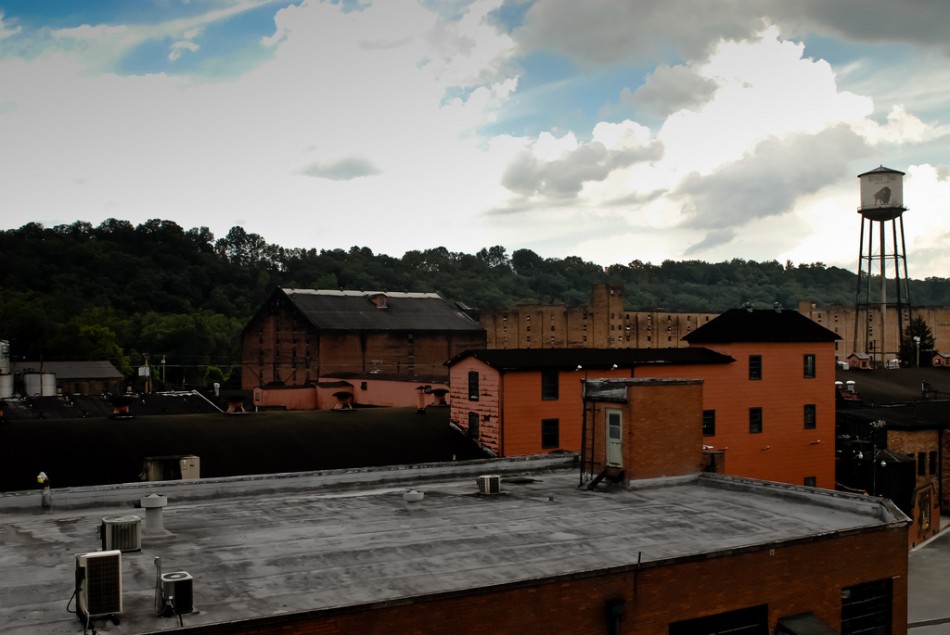 Our group spent the first night exploring "Derby City's" gastronomic offerings.  The next day we woke early at Louisville's Hotel 21C, grabbed coffee at the breakfast bar, then hit the road.  Okay full disclosure: they rose early, and I slept in a little, to be awakened by the repeated calls from the front desk.  Yes, I was "that guy."  The hour or so drive to the distillery gave me plenty of time to clear my head and gather my thoughts as I snapped pictures of the beautiful rolling hills and antique, rust-hued 'truss' style bridges that span the valleys.  Upon our arrival at the Nation's oldest distillery, I was instantly confronted by over two hundred years of bourbon history along with that sweet, chewy aroma provided by the Angel's share emanating from the aging warehouses that litter the small city of a distillery. (I can still almost taste the air as it was that morning, sitting now, three months later in muggy Houston, in front of my computer).  We were rapidly whisked away on an insider's tour of the highest order which led us through bonded warehouses, bottling lines, the distillery and on to the "lab" and tasting room.  At the tasting room, we met the guys who, arguably, have the best job in the spirits biz- sit around, taste whiskey all day and get paid for it.  Those same guys let us see what that job was like, as we tasted our way through the prized Buffalo Trace Antique Collection and any and every experimental bourbon that they had on their shelves.  It was quite the palate priming for the tasting that awaited us.
From the lab, we moseyed on over to Bonded Storage BLDG H, where 6 barrels of Buffalo Trace awaited us. These barrels, by the way, were all filled on the same day, aged in the same rick or row, on the same floor, of the same warehouse, for the same length of time, and are in every possible way the same- except for the wood. (That wood by the way, is tightly controlled, meeting Buffalo Traces specific guidelines of being "center ring," from trees 70 to 80 years old, with a 55 second burn). The glasses were being filled straight from the barrel.  Our strategy, we decided, was to individually work through the tasting silently while taking notes, without discussing our thoughts until we had all finished.   And that's exactly what we did, but when we finished, the results were astounding.  The group unanimously agreed on barrels I and II as being the all-around best in the room, but that's where the harmony ceased.  Bill was in love with Barrel III, and did his best to persuade us to enjoy this "delicate old lady of a whiskey," while Martensen and myself were really digging the versatile balance of barrel IV, and so on.  This part of the selection process was easily the most exhilarating and educational, as we each went back through the whiskeys, scribbling away on our notepads, while engaging in friendly argument.  It was so amazing to see the variance in these whiskeys that were, in every way the same, except for the wood.  Even more dazing, was the distinction in the palates and preferences of the members of the group.
It really brought me back to basics, and perhaps for the first time in my career, firmly hammered those basics down.  Anyone who has ever attended an organized tasting of any sort will remember being told "you taste what you taste… there are no wrong answers, etc…" and anyone who has even slightly read up on whisk(e)y will remember the part about each barrel being unique, thus the need for blending and so on.  Like the many tasters and readers out there, I firmly believed these ideas to be truths, gospel even; I had just never seen them in action quite the way I did that September morning in Kentucky.  I had always accepted that there was some degree of variation from one whiskey barrel to the next, but I had no idea that they could taste like completely different styles altogether, some tasting older, some younger, etc.  For example, if I were to blind taste selections I and II today, I would tell you that selection I was probably a wheated bourbon with ten to twelve years of age and that selection II was definitely a younger rye whiskey in the four to six year range.  Neither of these would be correct (regarding the style and age).  Conversely, any of the members of this group, or any of my coworkers at Anvil, could taste those two expressions, have totally different first impressions and be entirely correct (as to what they actually taste.)
After it was all over, we selected four barrels.  And guess what?  They're here!  The barrels were individually bottled, divvied up and shipped out to the four participating markets: Houston, San Antonio, Austin and Dallas, and can be found at Anvil Bar & Refuge, Esquire Tavern, The HighBall, and Cedar's Social respectively. They are also available at the following retailers (listed below).   A few notes from the tasting:
Selection I (barrel 285): Nose full of cinnamon and allspice; creamy buttery body, with soft butterscotch and caramel notes followed by light notes of stone fruit.  Very well balanced.
Selection II (barrel 273)  Caramel, green vegetables and young fruit in the nose; dry, spicy, rye forward and hot through the palate; finishes hot with caramel and toffee notes.
Selection III (barrel274): Tobacco and sawdust on the nose; soft fruit notes raisins and dried apricots augmented by a mellow rye
spice dominate the palate; with a silky, lightly peppery finish.
Selection IV (barrel276): By far the lightest, most delicate of the four.  Notes of brown sugar and honey are intermingled with elegant, subtle spice notes, followed by a gentle and creamy finish.
So stop on by the bar, order a flight and decide for yourself what your favorite expression is.  This juice won't be around forever and it is the only release I'm familiar with that features near sequential single barrel expressions.  Flights are available and are very reasonably priced.  Cheers!
Houston Wine Merchant
2646 South Shepherd Drive
Houston, TX 77098-1534
(713) 524-3397
Austin Wine Merchant
512 West Sixth Street
Austin, Texas 78701
(512) 499-0512
Dons & Bens
10903 Industry Dr.
San Antonio, TX 78217
(210) 646-9992
Centennial Fine Wine and Spirits
8123 Preston Road
Dallas, TX 75225
(214) 361-6697