A LOVE AFFAIR WITH AMARI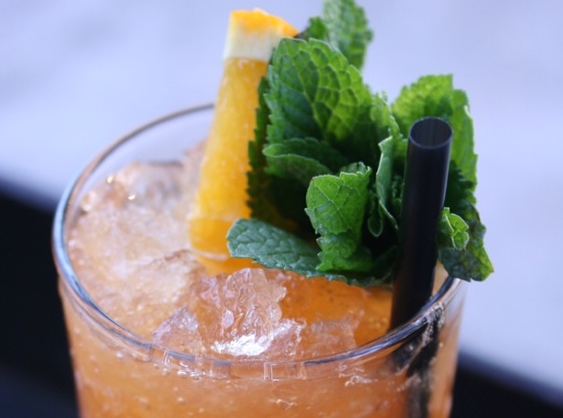 While familiar with Amaro before working at Anvil, the unusually large selection at the bar exposed me to different brands that I had not had before. I found these to be very interesting in flavor and quickly became enthralled with drinking these wonderful liqueurs. In my introductory post to Drink Dogma, I thought I would offer a bit of history about some of these brands and a few recipes featuring some of my favorites.
Note from Bobby Heugel: This is the first post from Anvil Bar & Refuge bartender, Matt Tanner. Matt joined the Anvil staff late last year and is evolving into a cocktail wizard behind the bar. Some of his cocktails will be featured on our upcoming menu, which will be released shortly. Matt bartends on Fridays, Saturdays, and Sundays at Anvil. Come visit some of Houston's new talent and let Matt make you a drink…with or without Amari.
Amari (plural for Amaro), in Italian, means bitter. All Amari live up to this basic description, but while being bitter, they are also in respect semi-sweet, herbal, floral, citric, and deliciously full flavored! Each brand however is unique and uses specific ingredients to obtain their signature flavor profiles.
FERNET-BRANCA
In 1845, Bernardino Branca, a self-taught apothecary in Milan, first offered Fernet-Branca to the public as a tonic to cure many illnesses. Over time, with the backing of revolutionary advertising strategies and company transitions, Fernet-Branca became a favorite of both the sick and healthy. From 1932 (some say 1934) until 1978, Dr. Zempliner (can't find his first name anywhere) imported Fernet-Branca in wooden barrels to a warehouse in New York and sold it as a medicinal tonic to avoid higher taxes applied to sale of alcoholic beverages. In 1978, the FDA came down on Zempliner and ruled that if Fernet-Branca was going to be marketed as medicine then it would have to be regulated as medicine. The importing of Fernet-Branca immediately stopped, although the Branca Family retained possession of the warehouse in Tribeca, New York. In 1998, a gentleman by the name of Aurelien de Seze, began importing Fernet-Branca back into the U.S. through association with the Branca family which still owns the company to this day.
FERNET COCKTAIL
(Based on a recipe from The Savoy Cocktail Book)
1 ½ oz Beefeater Gin
¾ oz Fernet-Branca
¾ oz Punt e Mes
Stir with ice and strain into a cocktail glass.
This beautiful dark amber spirit is made through an infusion of various herbs and spices; the young Fernet is then aged in oak barrels for at least one year. Known spices and herbs in fernet are: myrrh, chamomile, cardamom, aloe, and saffron. Rumored spices that may be included are: rhubarb, cinchona bark from South America ,gentian root, wormwood, bay leaves, sage, peppermint oil, the ginger-like spices galanga and zedoary.
GOLDEN GATE SWIZZLE
(Matt Tanner, Anvil Bar & Refuge)
1 ½ oz Fernet-Branca
1 oz Lemon Juice
1 oz Orgeat
¼ oz John D. Taylor's Velvet Falernum
¼ oz Angostura Orange Bitters
4 Dashes Angostura Bitters
Combine all ingredients in a Collins glass filled with crushed ice and swizzle until frost forms on the outside of the glass and cocktail is sufficiently mixed. Garnish with a large bouquet of pressed mint and a slice of orange.
Many cultures enjoy drinking this Amaro in various ways, but in San Francisco and other American cities that have established cocktail scenes, many opt for a more modern approach. Fernet is taken as a shot and is often followed by a chaser of ginger ale. This tends to occur behind bars out of site of guests waiting for cocktails. Alternatively, in Argentina for example, it is enjoyed over ice with coke. As for those of us at Anvil, we generally just shoot Fernet-Branca with no chaser because we are real drinkers – though we will make sure you get your drink first and never do so in front of Bobby or Kevin.
Despite this simple approach, Fernet makes great cocktails. Here is one last cocktail that will help you to enjoy Fernet-Branca:
BERNARDINO SOUR
(Matt Tanner, Anvil Bar & Refuge)
2 oz Fernet-Branca
1 oz Lemon Juice
½ oz Grade-A Maple Syrup
1 Egg White
2 Dashes Angostura Bitters
Shake all ingredients except Angostura bitters hard with until cocktail fully expands and pour into a highball or similar glass without ice. Garnish with two dashes of Angostura bitters on top and a mint leaf.
CYNAR
Unfortunately, there is no solid recorded history of who first created or launched this Amaro, but we know it was launched in 1952 and is currently owned by Groupo Compari. Cynar is a pleasant and refreshing herbal spirit that is comprised of thirteen herbs and spices, of which, the main one is artichoke. It is also not as overwhelming as Fernet, so if someone can handle the artichoke nature of the liqueur, is much more mild. In this manner, I find Cynar to be a nice introduction to Amaro. Cynar and soda tends is one of my personal favorite cocktails after a long shift at work or if I can find a bar that carries it, which is a rarity in Houston. This usually ends poorly, however, as I find that I can't help myself and drink as much of the bottle as I can.
PIMMS ITALIANO
(Essential Cocktail, Dale Degroff)
1 ½ oz Pimms No. 1
½ oz Cynar
¼" Tick Slice of Cucumber
In Collins glass, muddle a ¼" slice of cucumber. Top with Cynar and Pimm's; add ice and fill with tonic water.
AVERNA
The Averna story starts in 1859 with company founder Salvatore Averna. Salvatore got his secret recipe from Benedictine Friars in the San Spirito's Abbey in Caltanissetta Sicily, where it was being used as an herbal tonic. Salvatore was born into a well-off family of textile merchants and was an extremely active member in the community; the recipe was given to him as a gift from the Friars. The recipe was then handed down to his son, Francesco Averna, who saw the potential of the tonic to be sold to the public. He presented the tonic at many fairs abroad as well as in Italy. To this day the recipe has not been changed or altered – a feat that many spirit companies are having trouble achieving recently. Averna is made by infusing various herbs, roots, and spices before being sweetened with caramel.
THE BRAVE
(Bobby Heugel, Anvil Bar & Refuge)
1 oz Del Maguey Chicicapa Mezcal
1 oz Hacienda del Sotol Plata
½ oz Averna
1 Barspoon Orange Curacao
3 Dashes Angostura Bitters
Swirl the bitters throughout in a Bordeaux-style wine glass. Pour other ingredients on top at room temperature and swirl throughout. Garnish with a flamed orange zest.
There are countless other ways to enjoy Amari, and there are many other more obscure brands waiting to be used in cocktails or appreciated alone. They are perhaps one of the most under-appreciated liqueurs distributed in the U.S. and need more fans outside of cocktail freaks and those of us who enjoy shooting them behind the bar when nobody is looking.