GIN & TONIC CANS: CONVENIENCE GONE TOO FAR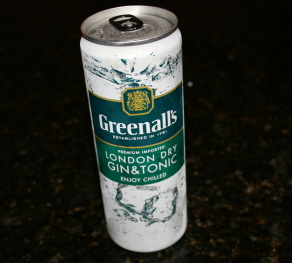 First the rattlesnake vodka, now canned gin and tonic; what the heck is going on here? Is the world completely giving up on the cocktail?
It all started when I was browsing the gin aisle at Houston's ridiculously large liquor store, Spec's, last week, and there it was canned gin and tonic. I mean it was right there below my favorite gin grouping (yes, I have a favorite gin grouping at the liquor store), Juinpero, OldRaj, and Boomsma Jonge. How could they even think of putting this canned monstrosity next to such fine products? I had to buy it and find out what this was all about. So, I guess, in a way, they won over another sucker.
The canned G&T is made by Greenall's, which is actually a gin I have never had. The list of gins I have never tasted is becoming shorter and shorter, so I think this might have played a role in my curiosity. For what it's worth, Greenall's gin has been made in England since 1761. Most of it, however, is distributed in bottles.
Surprisingly, the bottle option is just about the same price as the cans. I didn't even look at the price when I grabbed the little four pack. When my cashier rang the cans up and said 12.50 something, I reacted without thinking, "Excuse me?" She repeated, and I paid and thought, "Wow, there's not even a financial incentive to this product."
The cans come in 12 ounce sizes and contain 10% alcohol by volume. This means, that there's actually only 1.2 ounces of good ol' Greenall's per can, which is less than your standard shot. The individual price of the can would be $3.13, which is about halfway to the markup you might pay in a bar or restaurant. But, I'm not sitting in a nice lounge; instead, I'm planted on my couch wondering why the "cantender" charged me so much and underpoured.
And then I tasted it. Let me be accurate here – this stuff is by far the worst gin and tonic I've ever had. I re-checked the can and found an explanation "imported gin with natural flavors & artificial sweeteners". The artificial sweeteners definitely made this taste like a funky Sprite more than a G&T. By funky Sprite, I mean lemon and lime soda meets the moist ass of a hyena in heat. One sip was enough; I couldn't handle anymore. Good gin and tonics require good gin and good tonic. This can offers neither.
What concerns me most about the canned gin and tonic concept isn't the bad tasting experience. I've had plenty of those, though this might have been one of the worst. My fundamental problem with this product is that the G&T, despite being one of the greatest cocktails ever, is as basic as it gets. Gin, tonic, ice, a lime for garnish, and you're done. Why do we need to can this? Is this procedure to difficult for people to carry out? It all started with the boxed dinner; now everything has to be pre-made. Let's just officially change the Declaration of Independence to "life, liberty, and the pursuit of convenience."
I'm disgusted, in more ways than one.