MEMORIAL DAY WITH RANGER CREEK BREWING & DISTILLING
I don't normally throw these press releases on the blog like this and get all spammy on you, but I figured what the hell. I'm really busy this week as my little brother is graduating from high school, and I want as many people as possible to know about the exciting beer event we have planned for Memorial Day. PLUS, I figure if you're a local beer dork and otherwise wouldn't know about this, you'll forgive me. For those of you out of state, buy a plan ticket real fast??? Anyway, I won't make this a habit, but it's important to support the new brewers and distillers popping up in Texas if we really want to continue to see their exciting wares at local bars and retail shops. Among those new upstarts, Ranger Creek is one of the very best! Ok, here's all the information you could want. DON'T MISS THE CRAZY BARREL-AGED OFFERINGS – THIS IS GOING TO BE VERY SPECIAL!
On Memorial Day, Anvil Celebrates with a Tasty Line Up of Limited Release Brews from Ranger Creek Brewstillery
RC Owner Mark McDavid and Brew Master Rob Landerman join Anvil's Kevin Floyd to share their brewing knowledge and a pint [or two]
Anvil to feature the largest selection of RC brews to be tapped in Houston at one time, including multiple side-by-side tastings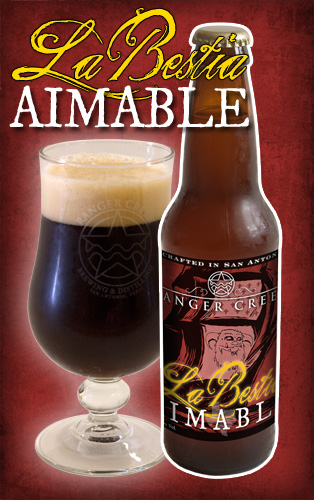 Ranger Creek, a combined brewery and whiskey distillery in San Antonio, is one of the newest and most exciting craft brewers to emerge in Texas.  And Houston hasn't yet tasted the full range of their brewing genius.  But all that will change on Memorial Day, when Kevin Floyd hosts a Ranger Creek tasting event featuring multiple side-by-side tastings to celebrate Memorial Day at Anvil Bar & Refuge.
"I'm excited to have so many of Ranger Creek's beers available to taste at Anvil at one time.  Ranger Creek's philosophy to make quality products in small batches by hand mirrors our craft approach to cocktails at Anvil, so it's a great match for us," enthuses Anvil partner Kevin Floyd.  "And I know that Anvil's loyal beer regulars will enjoy meeting Mark and Rob to learn more about their brewing processes and taste some of the limited releases and side-by-sides we are tapping for the holiday."
Here's a breakdown of the stellar line-up that will be tapped as the doors open at 4pm:
South Texas Lager
The Ranger Creek guys think San Antonio deserves a craft beer it can call its own, and this is what they came up with… Made in the traditional style of a German Dortmunder-Export, this delicately balanced and refreshing beer is crafted to complement the hot Texas summer.  With earthy, spicy, and herbal hints of German Tettnang hops, the subtly sweet malt flavor and herbal hop character give way to a crisp, dry finish.
Side-by-Side Tasting Opportunities: La Bestia Amaible, Oatmeal Pale Ale and Mesquite Smoked Porter
La Bestia Amaible
Spanish for 'the beast' and French for 'friendly' in honor of Texas' French and Mexican heritages, La Bestia Amaible is a traditional Belgian-style dark strong ale.  Crafted with Belgian malts and candi-syrup, along with Texas Hill Country honey and German noble hops, the beer offers a rich, complex nose of deep berry and fig with cinnamon, nutmeg, and black pepper notes, and a full-bodied brew of rich, dark fruit flavors.  Brew Master Rob Landerman has made two barrel-aged versions to compare against the keg in a rare three way side-by-side tasting:
–       a limited release Port-Barrel Aged version, aged for 5 months in a French Oak Port barrel
–       the only cask of the brew that has been aged for 5-months in a French Oak Cabernet barrel
Notes Landerman, "The differences between La Bestia and its barrel-aged versions are both slight and dramatic. The deep fruit character is played off by the wines used, adding more tartness, a deeper berry character, some more acidity, and increased dryness."
Oatmeal Pale Ale
A second side-by-side features the Oatmeal Pale Ale and a cask-conditioned OPA.  Master Brewer Landerman reports that "We have prepared a firkin of cask-conditioned Oatmeal Pale Ale, our signature American-style Pale Ale made with floor-malted Maris Otter 2-row base malt, malted oats, and American Crystal malt, with US grown Centennial and Citra hops. This firkin has been dry-hopped with Cascade and Centennial whole hops."
Mesquite Smoked Porter
Ranger Creek Mesquite Smoked Porter is brewed with Texas mesquite house-smoked malt for a special touch of local flavor.  In this side-by-side, compare the keg against a version that has been barrel aged for 6 months in a French Oak Cabernet Barrel from the Texas Hill Country's Dry Comal Creek winery.  Landerman observes "The Porter is deeply complex, with roasty, smoky, chocolaty characteristics that blend well with the dryness, acidity, and complex berry and fruit character of the Cabernet barrel."
Thinking that a Ranger Creek brew and a shot of their whiskey would have been fun?  Well, so do we.  We just need to wait for the hard stuff to be ready to sip!  Hopefully, soon!