MUSTARD COCKTAILS
Another post with photography from veteran Anvil bartender Matt Tanner.

When making a cocktail, sometimes the simplest perspective is an ideal starting point – what do I feel like eating or drinking right freakin' now??? Don't force the issue – just give in to those inner cravings. I'm not exactly sure how my most recent cocktail obsession got started, but over the past six or so months, I've been treating my cocktails like a hefty portion of bratwurst. I'm a mustard freak, and through even those who profess to hate mustard are liking some of these odd combinations.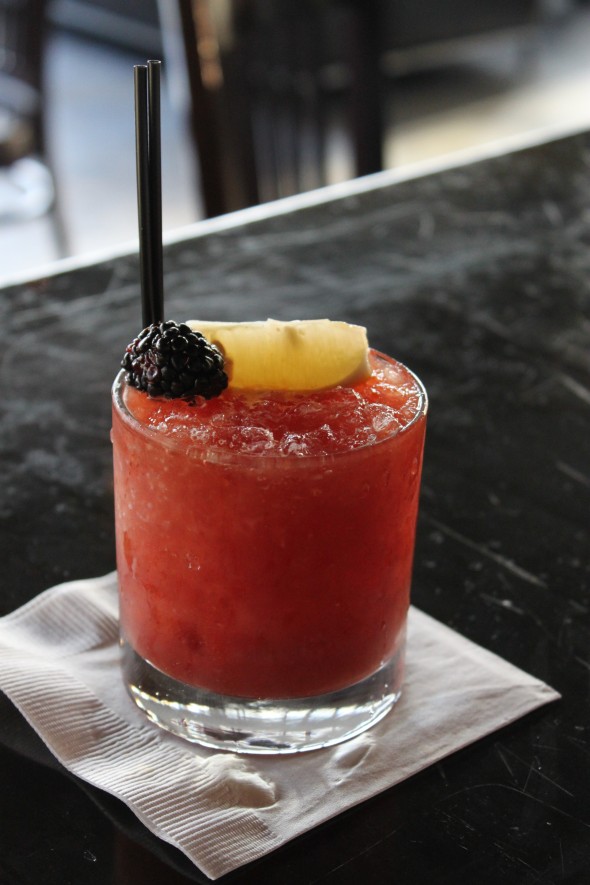 Cassis de Dijon
1 oz. Cruzan Blackstrap Rum
¾ oz. Crème de Cassis
½ oz. Lemon Juice
1 Barspoon of Turbinado-Based Simple Syrup
½ Barspoon Dijon Mustard
Shake and strain into a highball glass with crushed ice. Garnish with a lemon wedge and blackberry.
As the cocktail movement has grown over recent years, interest in atypical ingredients has accelerated. Fat washing, vinegars, and other uncommon cocktails ingredients have teetered carefully on the wall standing boldy between "trendy pr wet dream gimmicks" and "passionate line cook gone bartender" madness. Some have staying power; others are likely to be oddball footnotes in out of print cocktail books…er…blogs. Mustard is certainly no different, but when considering unusual cocktail ingredients, it is always important to consider what classic components an ingredient can offer to a cocktail.
La Mostarda
1 ½ oz. Mustard Seed-Infused Gin
¾ oz. Lime Juice
½ oz. House Grenadine
½ oz. Pomegranate Molasses
Shake and strain into a cocktail glass. Garnish with a lime wedge.
Mustard has a spicy, acidic, vinegar quality that actually shares so much with more common cocktail ingredients like bitters, shrubs, and citrus. Apparently, I'm not the first to think of this either, as there is even a french mustard liqueur already in production. I've never had this, but hell, that sure is encouraging!
In all of my experimenting, I've found that two major approaches work: infusions and using mustard itself. Infusions that use whole mustard seed are quick and extremely flavorful and typically only take about twenty-four hours to take hold of a spirit. These infusions also play nicely with herbs and other spices, resulting in a more dynamic base for your cocktails. Fresh mustard (we're talking a bold spicy Dijon here, not French's) is a little more precarious.
As you might have guessed, there aren't any ounce proportions in any of my mustard cocktails. Instead, think of the similarities mustard shares with bitters – small amounts with constant attention to balance my friends. Think of making mostarda, an Italian condiment made from candied and mustard syrup. Herbs such as sage, thyme, and basil with lime, lemon, grapefruit juice or peach and apple all work seamlessly.
The Garden Variety
1 ½ oz. Coriander-Infused Tequila
¾ oz. Lime Juice
¾ oz. Honey Syrup
¼ Inch Thick Cucumber Slice
½ Barspoon Spicy Dijon Mustard
Muddle cucumber and with shake other ingredients. Fine strain into a cocktail glass. Garnish with a sprig of cilantro.
This post has probably left you either very curious or doubting the sanity of the staff behind the bar at Anvil. Trust me some of us are definitely insane, but none of that is mustard-related. Nevertheless, I hope you'll give in to that first curious instinct and try one of these out. To be clear, I'm not saying this is going replace the iconic American hotdog anytime soon, but at the very least, maybe it is a good example of how thinking about ingredients at their core – acidity, spice, etc. – can lead to new cocktail experiences.