OLD OVERHOLT RYE & THE 30 SECOND STAREDOWN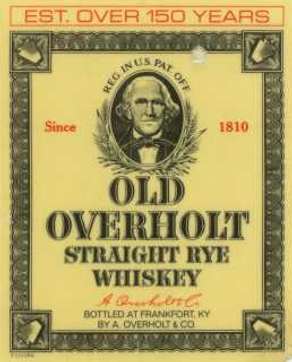 Old Overholt is arguably the most enduring staple of the American whiskey landscape.  The next time you find yourself near a bottle, do me a favor.  Grab that dusty bottle of rye and look Mr. Overholt right in the eyes.  Now, you have to do this for at least a good thirty seconds, for this to work, so don't give in to his penetrating gaze.  If you don't crumble like some seventeen year-old kid who managed to sneak into the strip club only to be stared down by a half nude mid-thirties stripper named Candy who knows the jig is up, Ole' Holty might take it easy on you.  If not, those yellow label manhattans, in classic Candy fashion, are likely to get the best of you in a dusty hallway closet that smells strangely of moth balls and StarKist tuna. I found this out the hard way, after I disrespected Mr. Overholt and two of his older brothers from 1930 and 1940.
Overholt's harsh resentment towards those who disrespect him are rooted in a deep bitterness towards a drinking society which seems to regard this once proud ruler of the American whiskey market as a mere "budget brand".  You see, back in the day, Overholt and his family were among the most respected of American farmers.  When they opted to begin distilling their rye into whiskey because of the longevity and profitability associated with selling whiskey over grain, their reputations as great farmers and distillers made Old Overholt whiskey one of the most respected brands available.
Today, the Old Overholt brand is only a lingering shadow of what had once been.  So what gives; why did this once proud whiskey lose such an admired status?  Well, it seems that, despite being the oldest continuing operating brand of American whiskey, Old Overholt is hardly the icon he used to be.  Recently, I had the opportunity to taste three different offerings of Old Overholt, and the differences in each were striking.
Old Overholt (1930) – Old Overholt was one of only a few brands allowed to be sold as a medicinal whiskey during Prohibition.  This version, bottled during this period, was fourteen years-old, sealed, and tax-stamped.  The "medicine" was bonded, with a proof of 100.
There were dramatic differences between the three bottles of Old Overholt.  The 1930 bottling was one of the best whiskies I have ever had.  Forced to sit in barrels for extended periods of time during Prohibition, the whiskey was far less hot than the younger five year bonded.  The smoothing effects of aging and complex flavors imparted by the wood were outstanding, creating a finish that lasted forever.  In my opinion, this whiskey would be able to go head-to-head with the very best of the well aged ryes on the market today, including the Van Winkle Family Reserve Rye, the Sazerac 18 Year Rye, and the Rittenhouse 21 Year Rye.  This was a rare experience, and I was grateful for the opportunity.
Old Overholt (1940) – This bottle was far younger than the first.  Nevertheless, this five year version was also bonded, sealed, and tax-stamped.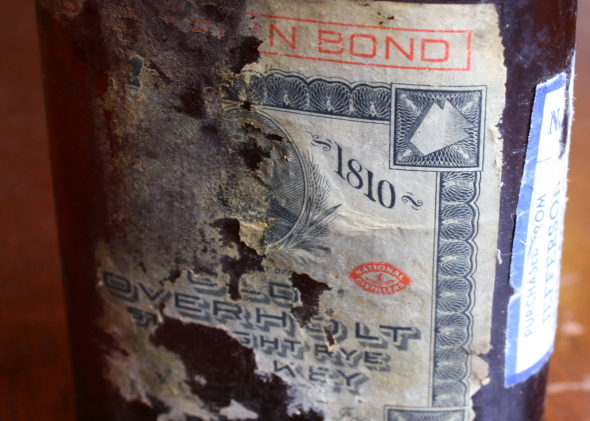 The second rye was also an excellent whiskey.  The higher proof of the Old Overholt really helped to create a unique and exciting rye.  This version was far spicier than the current bottling and had qualities similar to today's lower-priced darling, the Rittenhouse Bonded.  We actually tasted this rye with the Rittenhouse Bonded because it was a more apt comparison.  And, for your information – yes, we had a lot of rye that night; so what?  In this case, the Old Overholt was dramatically different from the Rittenhouse.  The Overholt seemed more dynamic and lively than the Rittenhouse, which is aged for an additional year.  There was an intriguing peppery, grassy element working there that I couldn't get away from.  I was tempted to make a manhattan with the rye because it was so ideal for this purpose, but I just couldn't bring myself to mix with such a rare product.
Old Overholt (2009) – The Old Overholt at your local store is bottled at 80 proof and is only four years old.  Mr. Overholt is a bit upset about it.
Currently, Old Overholt is among the most subdued ryes being produced in the U.S.  Its lower proof and four year age leave quite a bit to be desired.  Granted, it is still a decent whiskey that works surprisingly well in certain cocktails, but, it is by no means close to the previous two versions.  Sure, comparing it to the fourteen year-old version is a little unfair; however, the five year-old version really only has a one year and twenty proof difference.  The Old Overholt brand was also distilled by different producers since 1940 and is now owned by a larger corporation, but something in me tells me there is still a good whiskey there.  There is a long list rye freaks who for years have asked for a 100 proof Old Overholt that is aged longer, but I guess we will have to continue to wait.  There is potential and history in that bottom shelf bottle; let Overholt gain his sense of pride back!
Still don't believe me about the power of the Old Overholt gaze?  Well, the next time you and Mr. Overholt venture down the long, painful road of excess, you'll regret not taking my advice as you pull your face from a rocky, stained porcelain lover and flush – the portrait of Ole' Holty will appear.  From the swirling waters, his powerful eyes will stare you down; only this time, you won't dare look away.